Happy Homecoming! We have a full slate of activities today! Go Bulldogs! - This morning- pep rallies at each elementary & AMS - 1:00 PM- AHS Pep Rally & Coronation - 2:15 PM- Parade (see parade route) - 7:00 PM- Varsity FB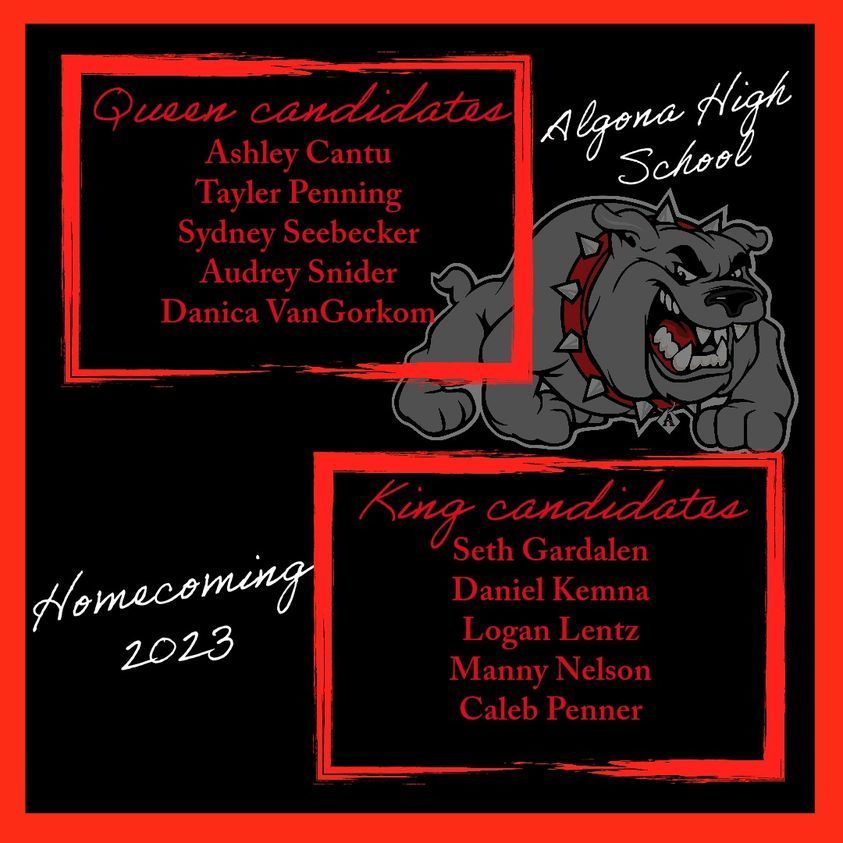 Tomorrow is Homecoming Day! Dress up with your favorite Algona apparel! Go Bulldogs!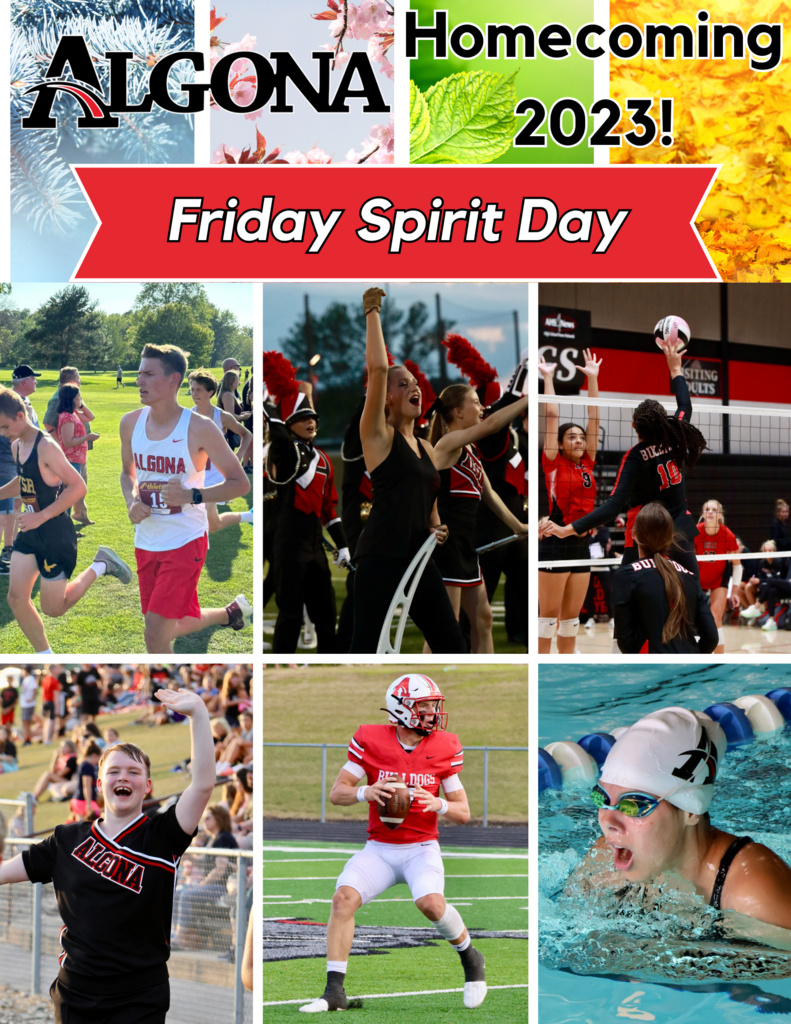 Our "Classroom Spotlight" series is back and today we visit the 3rd grade at Lucia Wallace. Last week, they started their embryology unit. See the images or click the link to the PDF to learn more. View PDF-
https://5il.co/25drg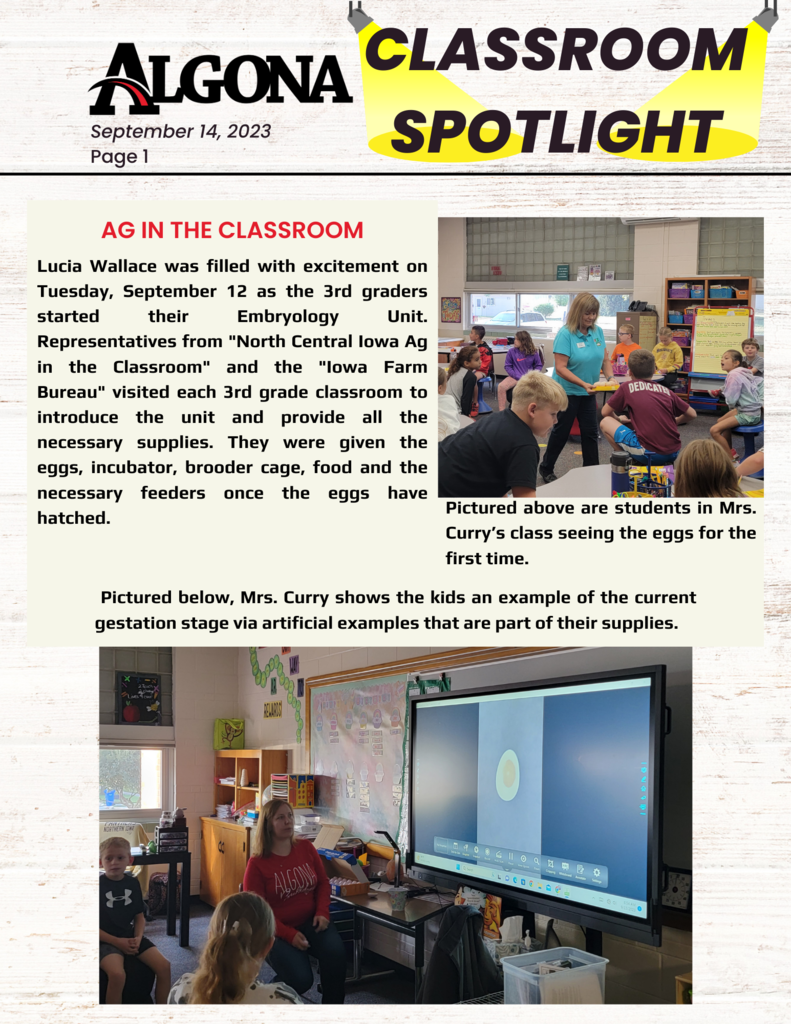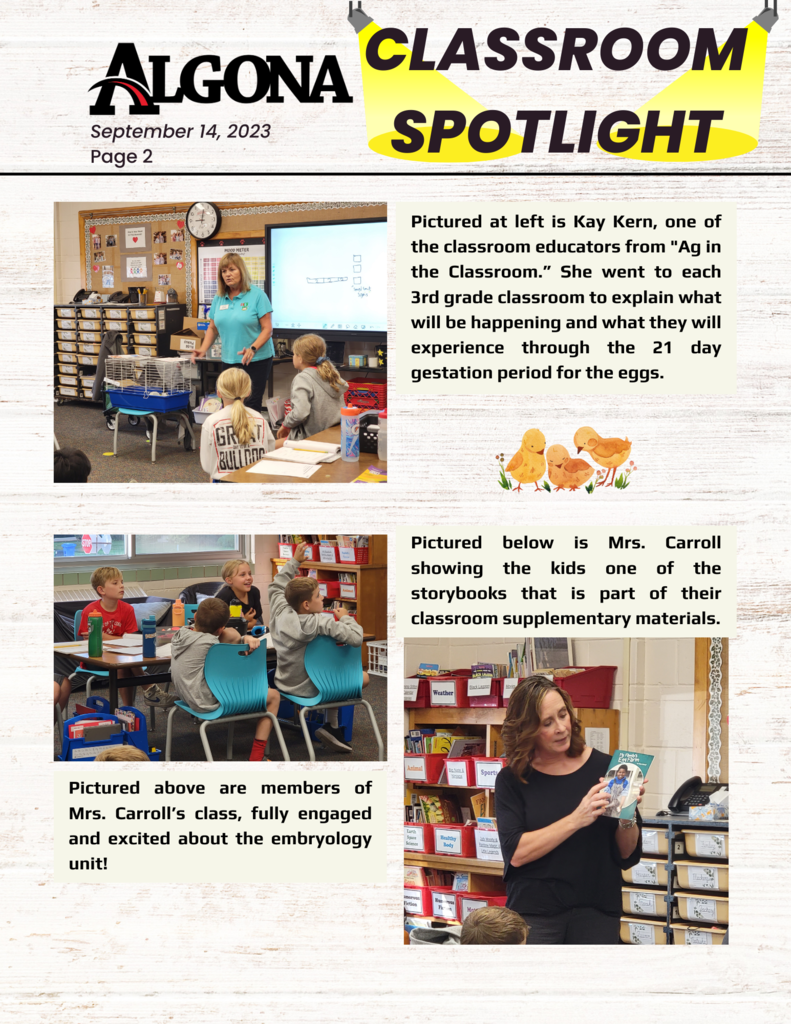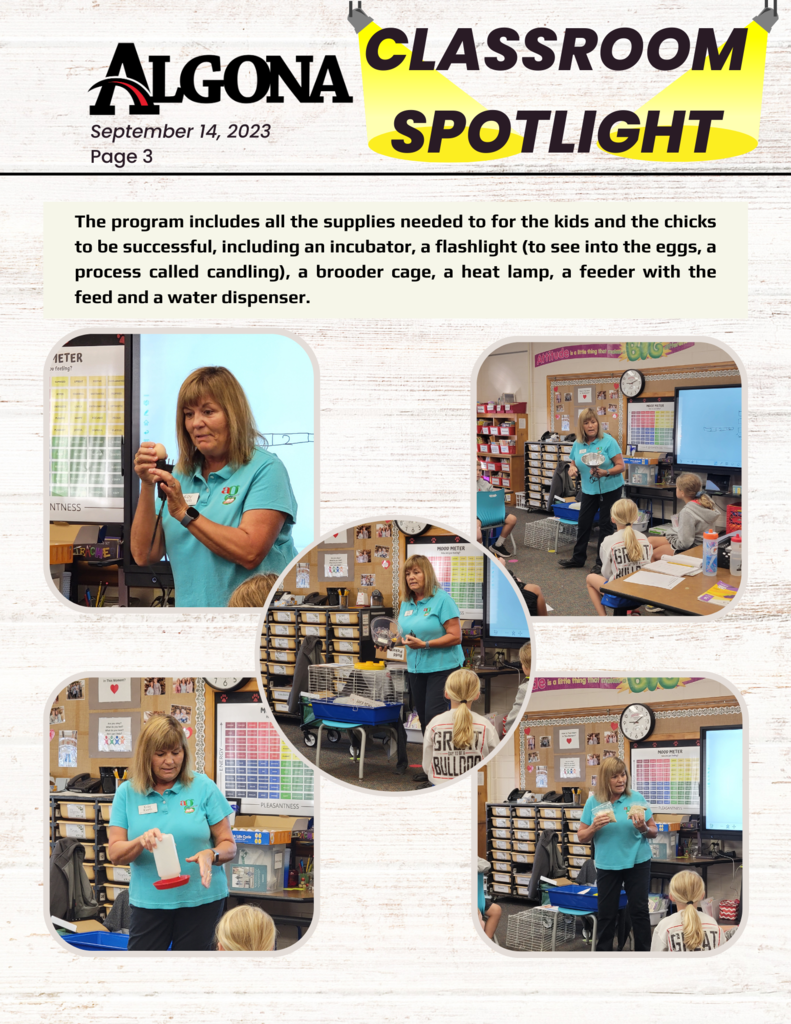 Happy Homecoming Week! Tomorrow's dress up days are- Elementary- Crazy Sock Day (and picture day) AMS- Color Wave- 5th- gray; 6th- white; 7th- red; 8th- black AHS- Seasons Day- 9th- spring; 10th- sumer; 11th-winter; 12th- fall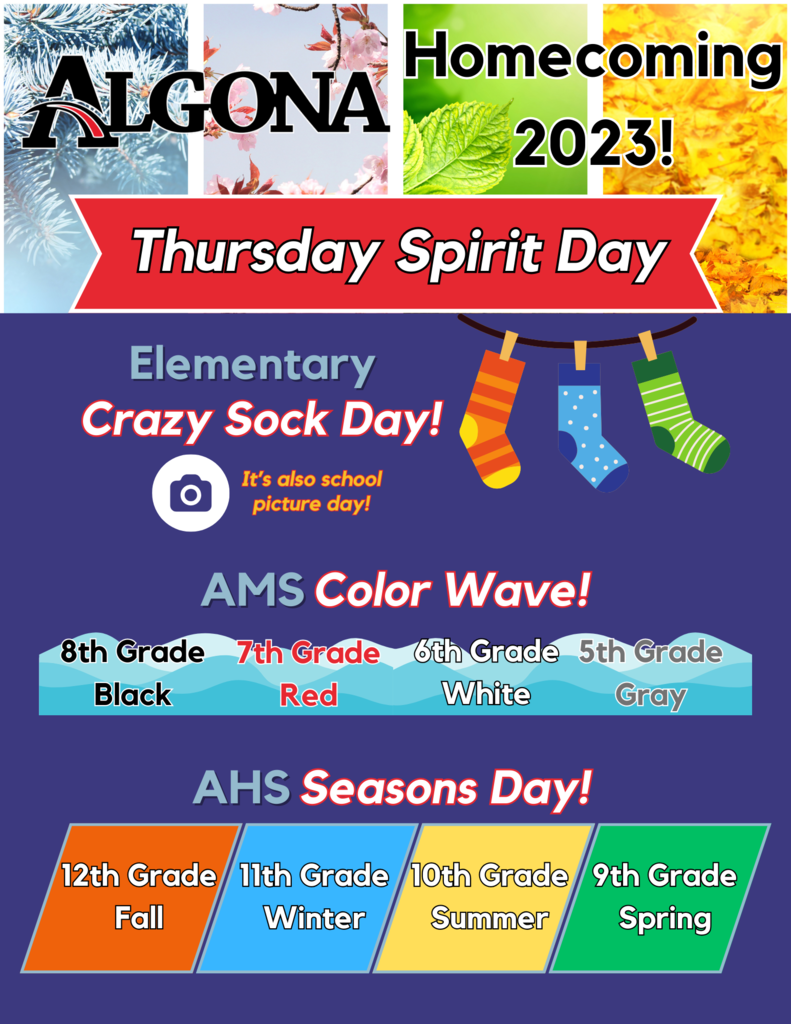 A funeral service for Officer Kevin Cram, 33, of Algona, IA, will be held Wednesday, September 20, 2023, at 10:30 AM, at the Algona High School, gymnasium, 600 South Hale Street, Algona, Iowa. Please enter through the north door. A private graveside service will be held. A public visitation will be on Tuesday, September 19, 2023, from 4 PM to 8 PM, at the Ed and Betty Wilcox Performing Arts Center.

Happy Homecoming Week! Tomorrow's dress up days are- Elementary- Hat Day AMS- Neon Day AHS- Nickelodeon Day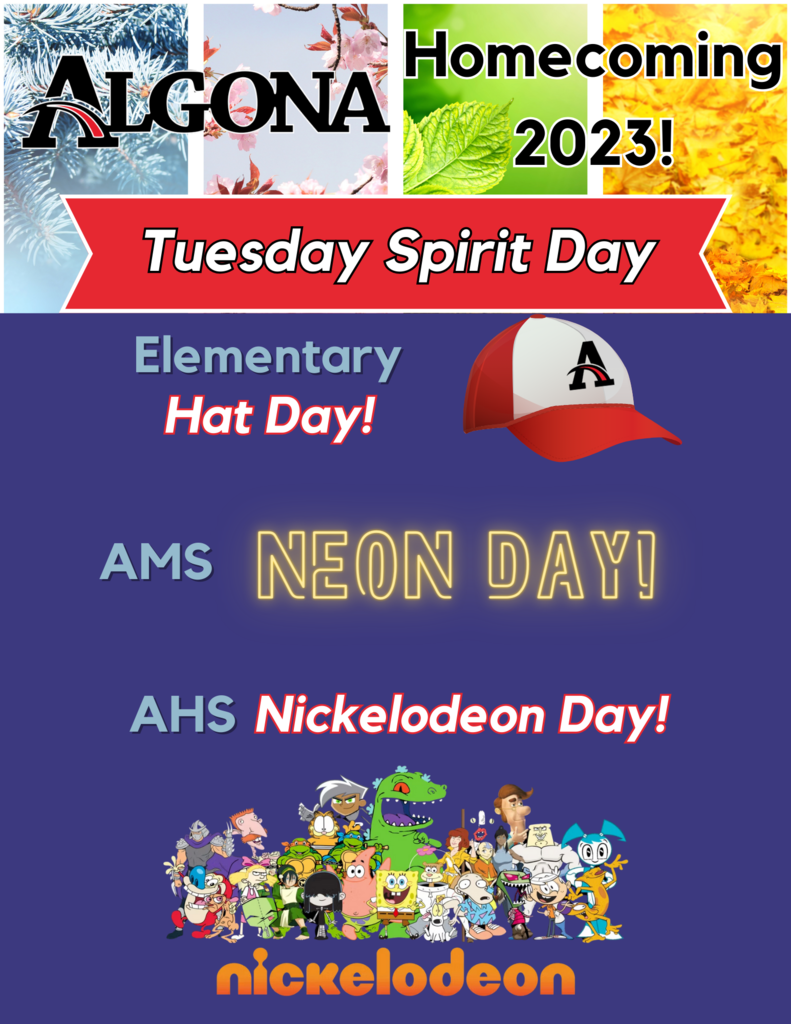 On Tuesday, September 19th, Algona Community School will dismiss at 2:00 p.m. (1:45 for elementary) due to services for Officer Cram. As was previously scheduled, there will be no school on Wednesday, September 20th.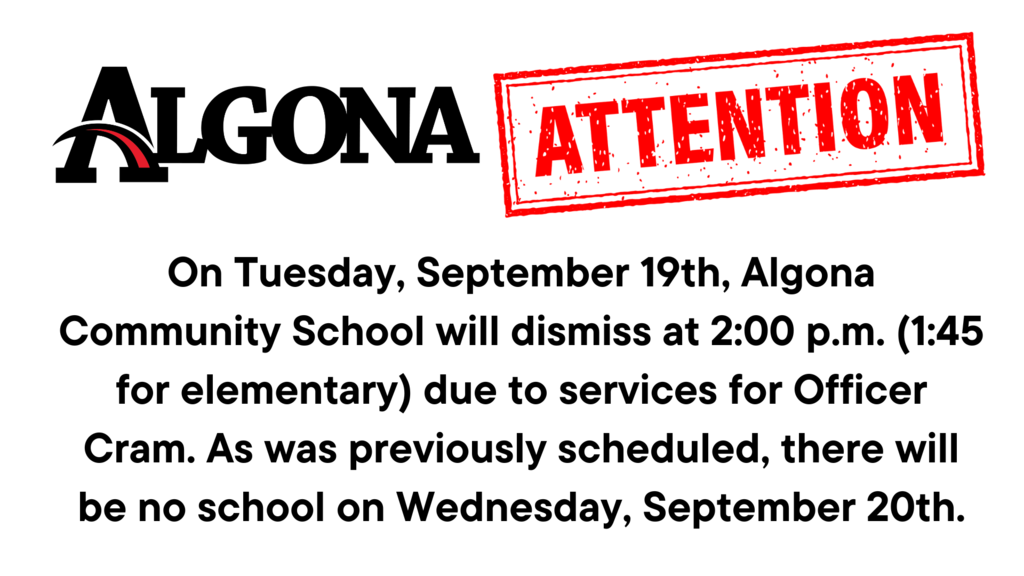 Happy Homecoming Week! Tomorrow's dress up days are- Elementary- Pajama Day AMS & AHS- Dress for Success Day (and picture day)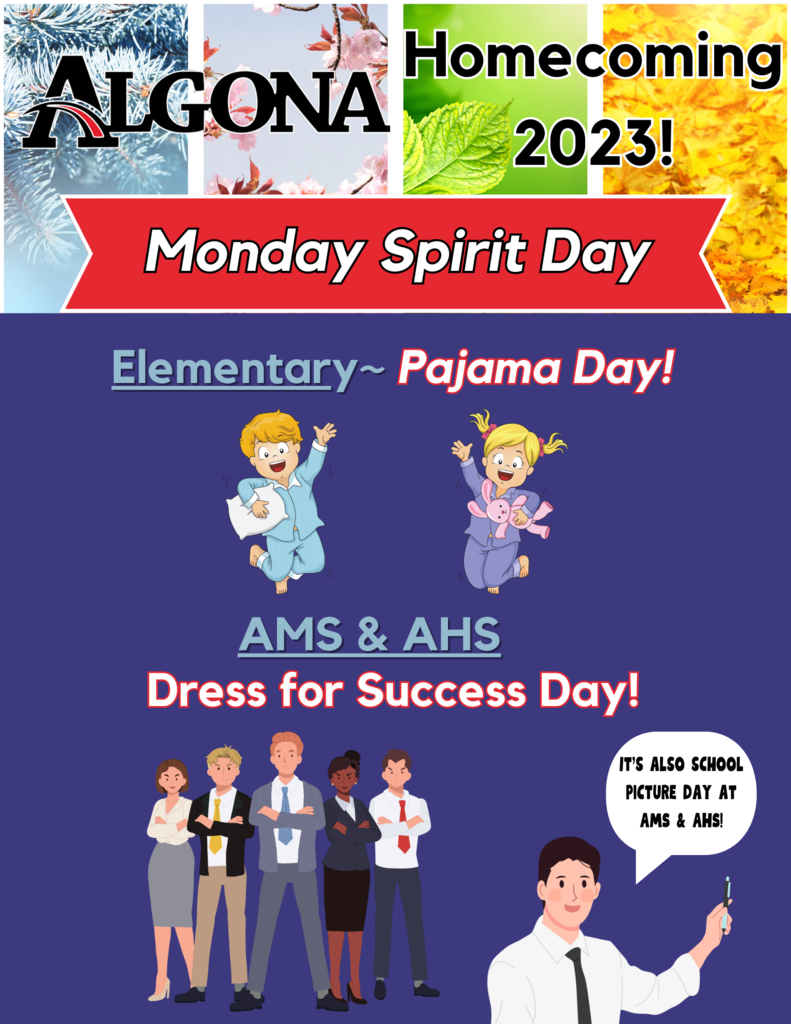 Our local KLGA/KLGZ radio will be broadcasting the game the Algona @ BH/RV game in audio form tonight online at
www.algonaradio.com
! Neither BH/RV or Algona's local stations will be doing a video livestream. Go Bulldogs!


The radio station KIWA 105.3 fm will be announcing the Algona @ BH/RV game and streaming through
www.kiwaradio.com
. Go Bulldogs!


As part of the Homecoming festivities, the students can participate in Spirit Days! View the graphic or click the link to the PDF for more information! PDF-
https://5il.co/24xja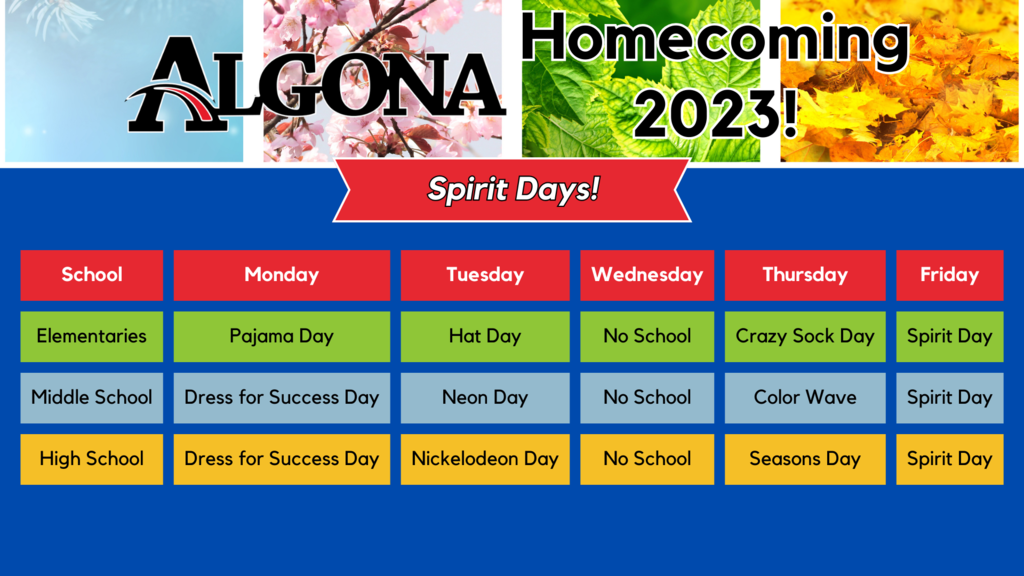 Homecoming is next week Friday, Sept 22! On Friday, there will be a parade at 2:15pm (see the image for the route), a freshman game at 4:30 and varsity kickoff at 7:00! Please come and celebrate!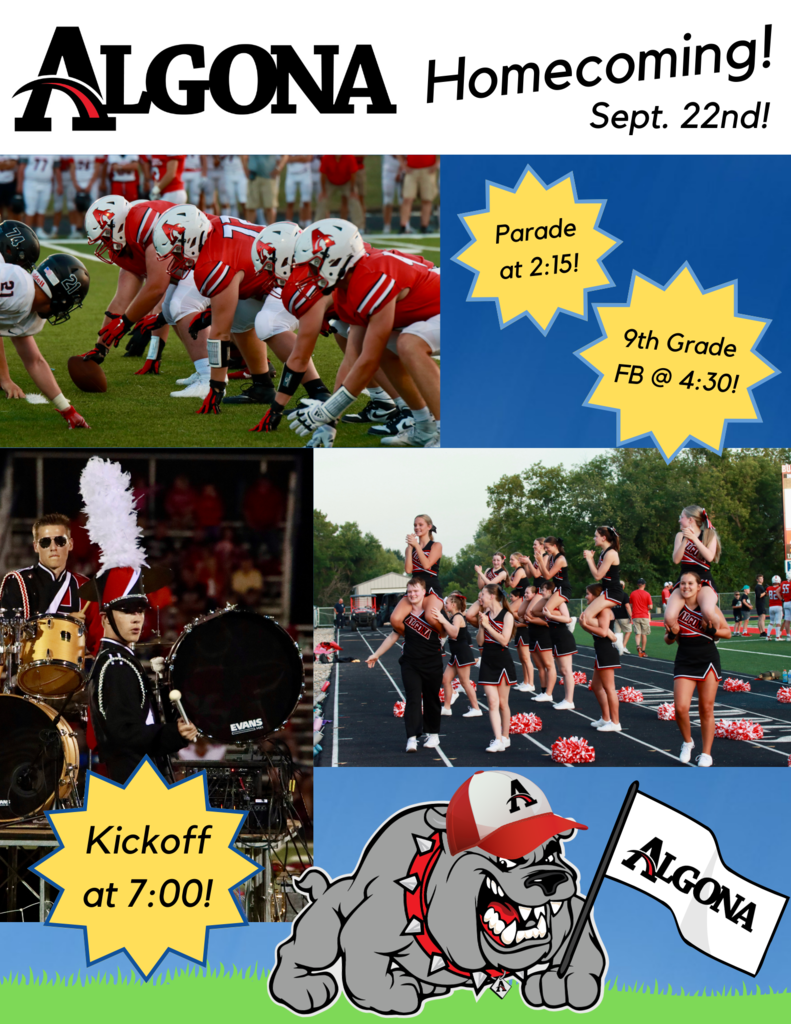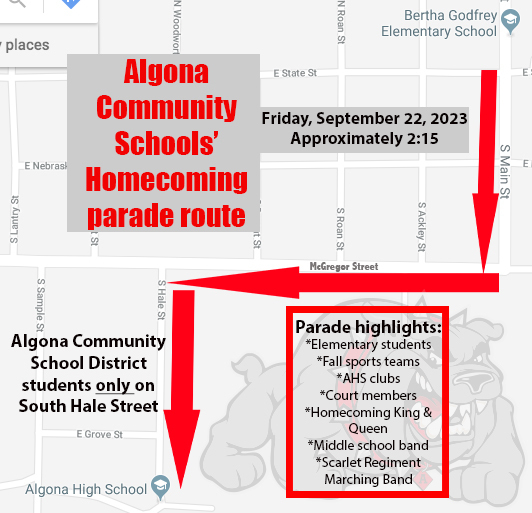 The Algona Community School District would like to extend our deepest sympathies to the family of Officer Cram and everyone affected by the tragic event that shook our community last night. Our staff is available to support anyone in need during this difficult time.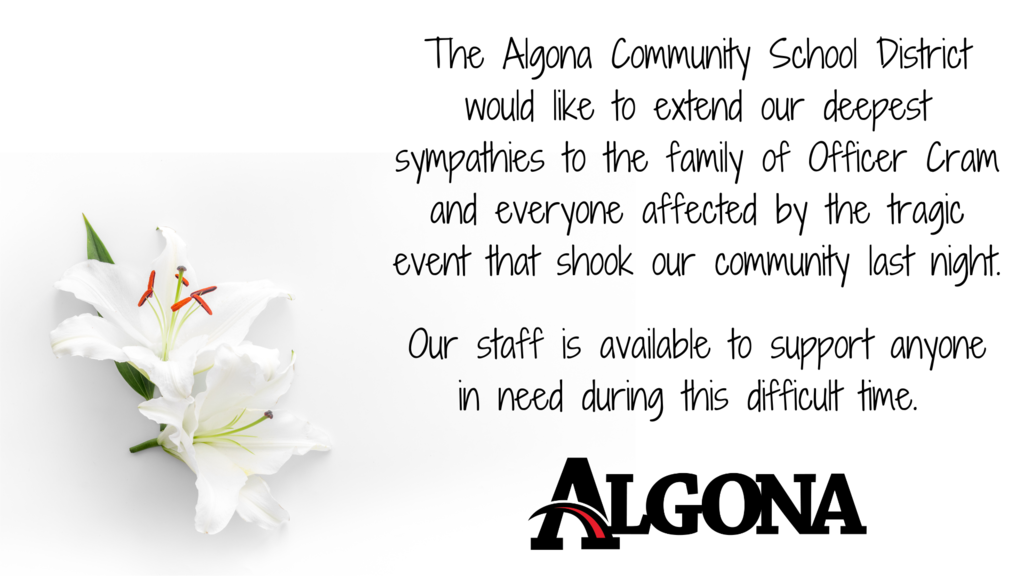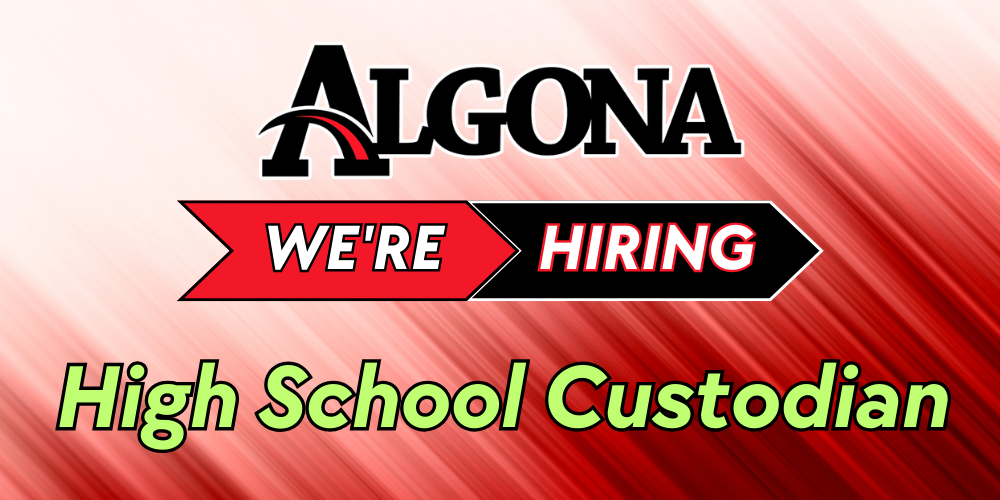 Mark your calendars for the 75TH ANNIVERSARY of Algona Band Day on Sept. 30! The parade starts at 1:00 and the field show competition starts at 5:45. Find schedules, alumni band information and much more at their Facebook page,
https://www.facebook.com/algonabandday/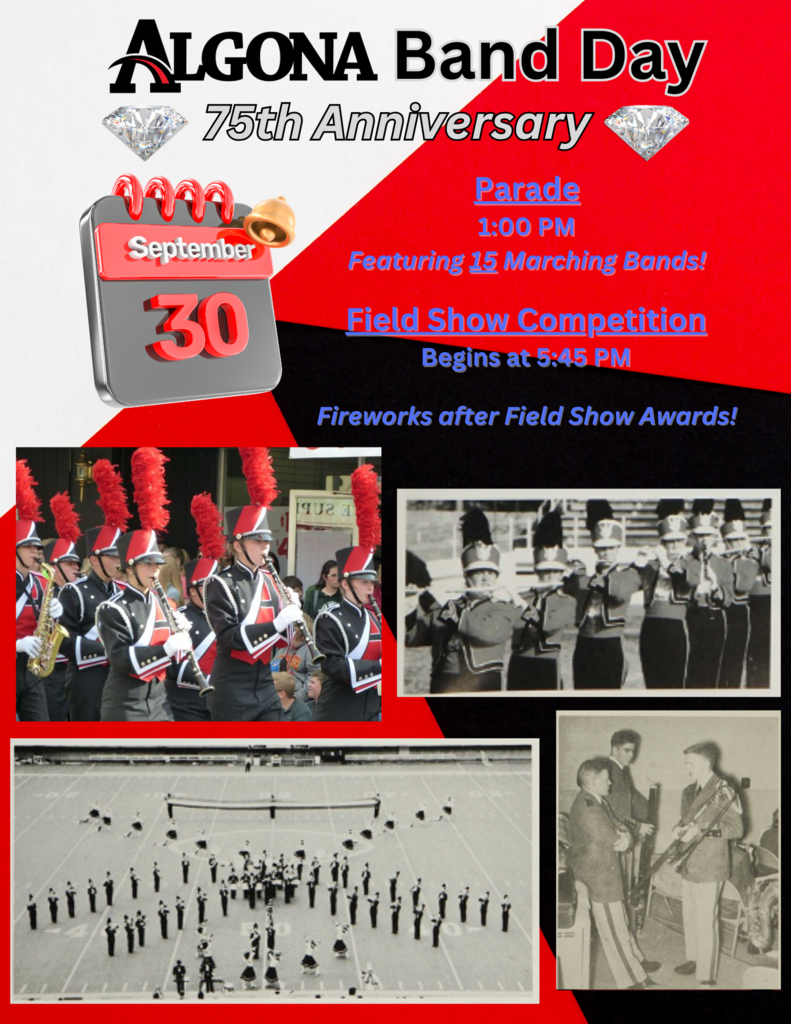 REMINDER! No school on Wednesday, Sept 20 due to Professional Development.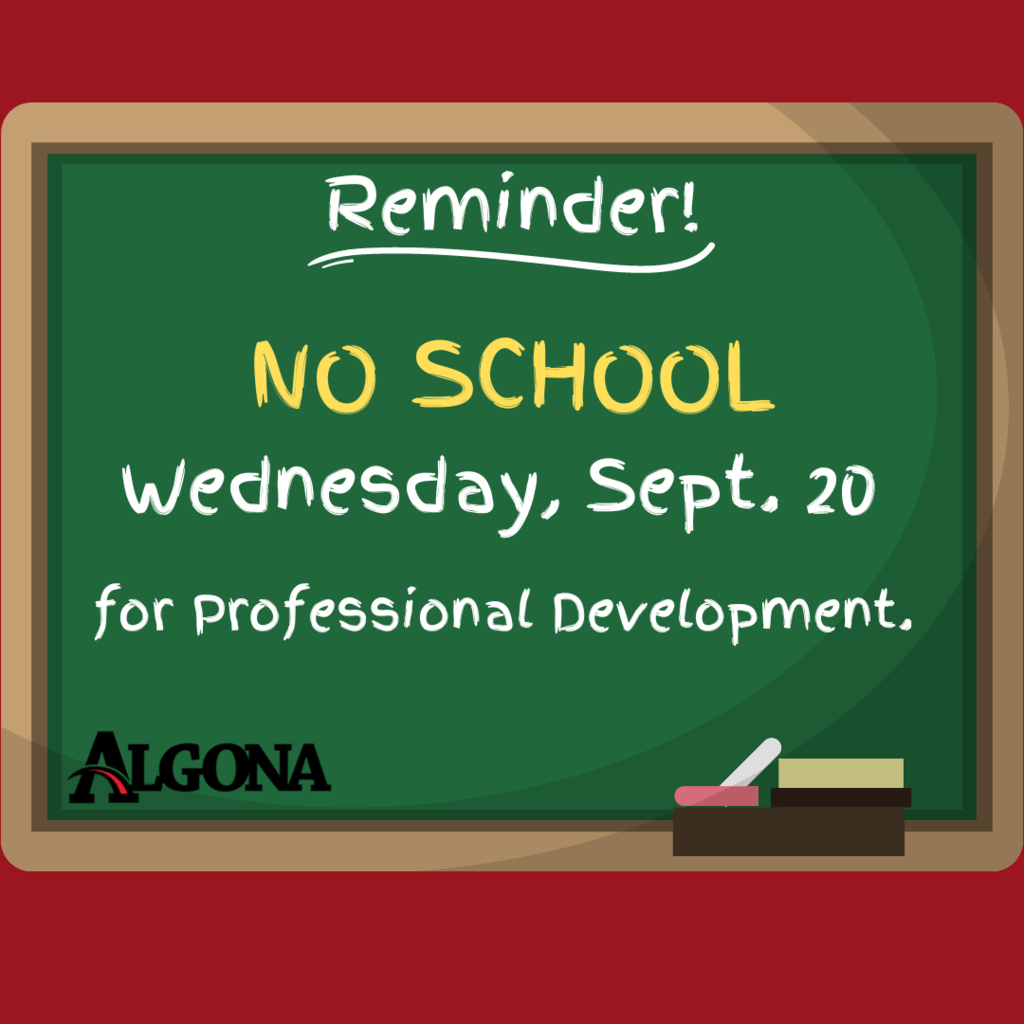 School picture day is coming up soon! AMS/AHS- Sept. 18 LW/Bryant/Bertha- Sept 21 Tu/Fri 3yo Preschool- Sept. 26 Please check with your child or email for ordering information.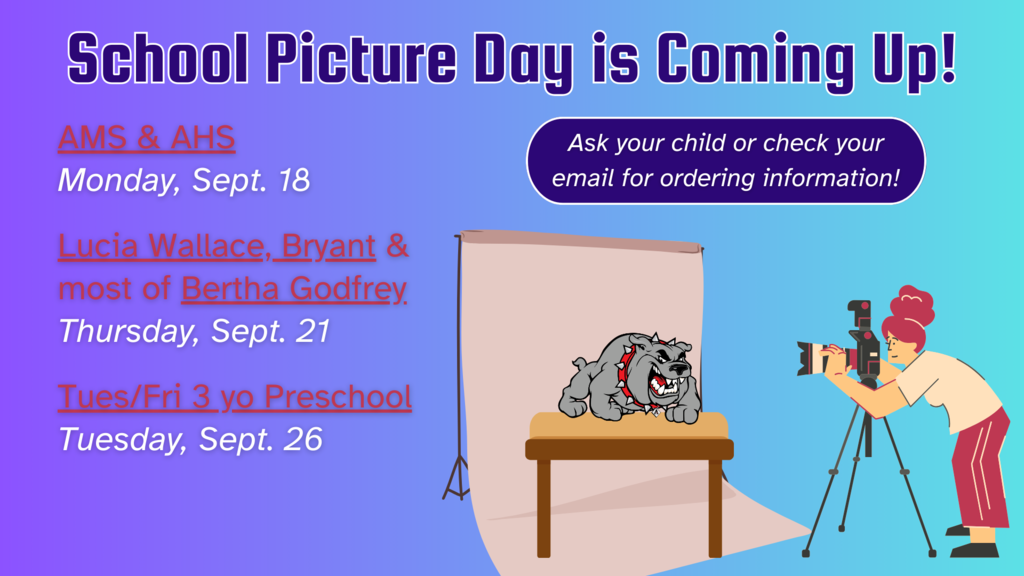 The AHS Dance Team will be collecting non-perishable food items for the food pantry at the Volleyball game tomorrow, Sept. 12. Come support a great cause!